Before I continue the story of the British Columbia Stationery and Printing Company and John Bowerman Ferguson, let's meet the other bookselling partner in the venture: Thomas Robson Pearson.
Establishing T.R. Pearson & Co., New Westminster
Born in 1858 in Oshawa, Ontario, Pearson came to Victoria in 1877, and then to New Westminster in 1879 (1).
Soon after settling in New West, Pearson entered the book and stationery trade, establishing T.R. Pearson & Co. on Columbia Street.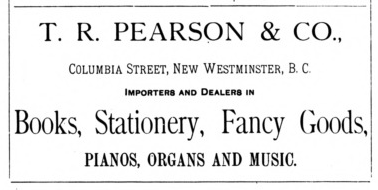 Connection to the Robsons
Pearson's middle name, Robson, came from his mother Isabella's family. Isabella Robson Pearson was the sister of John, David, and Rev. Ebenezer Robson, all of whom were actively involved in the development of BC in the province's early days.
John Robson, of course, was premier of British Columbia from 1889 to 1892. But before becoming a politician, John was a journalist, serving as editor of the original British Columbian newspaper in New Westminster in the early 1860s, and then as publisher of the new British Columbian from 1882 to 1883. David Robson was also involved in the reincarnation of the newspaper, and when John left to pursue his political career in Victoria in 1883, David took over management of the paper (2).
It is unclear whether Pearson and his uncles were partners in T.R. Pearson & Co. and/or the British Columbian (a February 1883 notice in American Stationer suggests that Pearson and John Robson might have been partners in the book and stationery company [3]), but the two enterprises shared the same premises, as seen in this photo from the City of Vancouver Archives (4):
Expansion to Vancouver and Formation of BC Stationery and Printing Company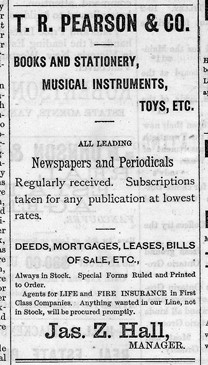 By January 1886, T.R. Pearson & Co. had expanded to Vancouver (actually still called Granville at the time) (5), and then in May, Pearson folded his New Westminster and Vancouver stores into the newly formed British Columbia Stationery and Printing Company. David Robson also partnered in the venture, bringing in his British Columbian Printing Company. And J.B. Ferguson brought in his book and stationery firm in Victoria.
As I'll cover in my next post, the BC Stationery and Printing Company turned out to be relatively shortlived. So was the remainder of Thomas Robson Pearson's bookselling career.
The End of Pearson's Bookselling Days
In 1887, Pearson married Edith Eleanor Major, daughter of C.G. Major (who was brother-in-law to George Clarkson, a New Westminster bookseller in the late 1860s—I'm telling you, the connections between these early booksellers form an intricate web!).
Also in 1887, Pearson withdrew from the BC Stationery and Printing Company, sold his New Westminster bookstore to David Lyal (6), and entered a partnership with his new father-in-law. Operating as Major & Pearson, the firm dealt mainly in real estate and insurance. When the Dominion Trust Company was established in 1906, Major & Pearson was incorporated into it, and Pearson became a director and manager of the new company (7).
Pearson was widely esteemed in New Westminster business and social circles, and he and Edith had three children. He died in 1947 at the age of eighty-nine (8).
Notes
(1) Biographical information about Pearson is mainly from British Columbia Pictorial and Biographical, vol. I (Winnipeg, Vancouver, and Montreal: S.J. Clarke Publishing Co., 1914), 289–295.
(2) From description of the Columbian Company Fonds at the New Westminster Archives.
(3) American Stationer (February 22, 1883): 263.
(4) The City of Vancouver Archives dates the photo as 189_, but I believe this is an error, as T.R. Pearson & Co. was no longer in operation after 1887.
(5) Ads in the British Columbian for T.R. Pearson & Co. starting in January 1886 show "New Westminster and Granville" as the company's locations.
(6) "Announcement: Change of Business," Daily British Columbian (March 1, 1887): 2.
(7) British Columbia Pictorial and Biographical, vol. I., 293-294.
(8) "T.R. Robson of Royal City Dies at 89," The Province (November 24, 1947): 2.
***
Similar Posts: